FORMATION: Documentariste Sonore Podcaster
ACCUEIL DES CANDIDATS :
Inscription aux tests et entretiens d'entrée à la formation (présentiel ou à distance)
Descriptif de la formation:
Formation Documentariste Sonore – Podcaster (collecte, gère, valorise et diffuse des documents sonores.), ? heures de cours 

Salle de cours:
Une station audionumérique complète et « Up to date » par stagiaire
Disque dur 1 To SSD – Thunderbolt.
Carte Son : Appolo Twin –  Métric Halo – RME  – Système Multicanal

Surround

: 5.1et Stéréo –  DSP  Traitements temps réels
Système Audio Distribué: Vienna Ensemble Pro
Casque  Sennheiser-Beyedynamic.
Software : Mac OS X  , Logic Pro:  Composing / Sound Design, Ableton Live : Scène, Interraction / Sound Design, Pro Tools : Production / Réalisation / Post – Production
Plugins FX Son temps réels (Précisions, Colors, Sound Design… )
Instruments Virtuels: Native Instruments (Ultimate) – VSL ( Vienna Ensemble Pro / Synchron)
Supports fournis aux stagiaires : supports de cours, annotations tableau virtuel, Tutoriels personnalisés, exercices communs et personnalisé.
Les travaux pratiques de Finalisation: Production, Post Prod, Post Synchro
seront réalisés en Studio Audio Professionnel.
Régie Analogique: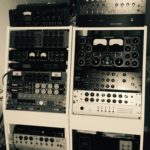 Enregistrement & Mixage: Station A: Stéréo et Multicanal 5.1 – Station Pro Tools™.HDx IIx 24I/24O/SSL 64 In/Out D-Command Es 24™ –  Genelec 1032 ™ – BM15™ Main Ctrle Monitor – ADAM A7 ™(Alternat Ctrle ]. Micros: AKG C12™, AKG C535 ™EB, Audio Technica™ AE 2500, Milab ™VM44,Beyer Dynamic™, Neumann ™TLM 103, KMS105™, KM184™,Violet The Amethyst™, Sennheiser ™e905, e904, MD421, Shure Beta ™52A … Instruments: claviers, guitares Fender, Aria ™… Amplis™: Laney™, Line6™, Gallien Krueger ™…
Edit: Station B –Sound Design– Mac Pro™:System MADI™ (RME) Pro Tools™-Logic Pro™ – Max ™ –  GRM Tools™ – PC : Audio-Produceur: Samplitude Pro™- RME Multiface-Digiface-Madi
Mastering : Tc Electronic Mastering System 6000 MD3 Stereo Mastering – Brickwall Limiter – Unwrap – MasterX3 – TC VSS3 – Tc Finalizer 48 Khz Station Pro Tools HDx  – Plug-in AVID/DIGIDESIGN [All] Manley Massive Passive et VariMu | Compressor [Analog] FAIRMAN TSC – Equalizer SUMIT – TUBE TECH Multibande Compresseur SMC 2B Station Samplitude Pro V11- Pro Tools Natif-DSP
Outboard :
The Shadow Hills Mastering Compressor™ / Chandler Limited EMI TG12345 Curve Bender Analogue™ /The Manley Variable Mu™/Manley Labs Massive Passive™/ NEVE 1073™- SUMIT EQP-200B™ / 2 Distressor™ (British Mode)/ SSL Logic FX G384™ / Fairman TS™C / Peavey VMP2 Custom Eventide Eclipse™/ TC-Finalizer™/AKG BX™ 10, BX 20 E/ Roland™ RE-150/TUBE TECH Multibande Compresseur SMC 2B
Digital: Plug in Avid Digidesign™, TC Electronic™ M 6000, Altiverb™ TC VSS3 Stereo Source Reverb TDM Amp Farm 3™ Bomb Factory™ BF-2A/3A DigiTranslato™™r Drawmer Dynamics TC™: DVR2 Digital Vintage Reverb TDM Eleven Fairchild 660/670 GRM Tools Classic for VSTTC:LM5D MD3 Stereo Mastering MDW Hi-Res Parametric EQ v2 Pultec EQH-2(All) TC MASTER X3 HD TC Tube-Tech CL 1B Universal Audio™…